Days are short, the air is crisp, endless events, managing work or school, shopping for and wrapping presents, traveling and cooking—The time between Thanksgiving and New Years' always passes me by in a foggy haze! Some years I have stayed in such good shape I still had visible abs on January 1st, some years my routine falls by the waste side and my resolution to get fit seems like a dream. Overall, I find that maintaining at least a moderate routine during the hectic times makes it MUCH easier to get back in shape. Here are a few ways to keep the waist line a little leaner this holiday season.
1. Start now!
I know you have a laundry list of things to do (not to mention the laundry!), but dedicating time for yourself now will make it easier to get in shape come January 1st AND it will give you more energy for your list today! If you can't make it to the gym try to clear space in your living room for a quick workout. My go to is a FREE app called '12 Minute Athlete'. This app leads you through a HIIT (high intensity interval training) workout that lasts 12 minutes. You can choose to do 4 of 6 exercises that last 30-50 seconds, followed by 10 second rests between each. You go through each exercise once then repeat them until the 12 minutes is up. Don't let the time fool you, this workout is enough to get the blood flowing and muscles burning! This is the perfect way to rev your engine and still have time to hang with friends and family. If this one doesn't suite you there are plenty of free apps out there that offer 4- to 20-minute workouts, just enough to keep that muscle memory alive while you're on hiatus.
2. Plan family friendly activities.
This one requires a bit more responsibility as you have to only plan activities and corral family together for fun and fit activities! But you'll also have the greatest reward since nothing brings people together quite like a little competition. One idea is to book a local soccer/football/baseball field for an afternoon to have a game or tournament. If you have a smaller family maybe you opt to go for a hike. A fitness instructor in the family might be convinced to lead the family through a class before chowing down on Christmas dinner. Whatever it is be sure that you choose something everyone can participate in.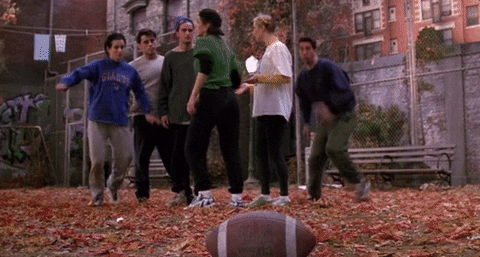 3. Check the holiday schedule at local gyms and studios.
Whether you're heading to a new city or staying in your home town, a little bit of research goes a long way! Certain places will cut back hours and classes around Christmas and New Years Eve. Plan ahead by creating a list of the places nearby, when they are open, and what they offer. This will help you schedule your workouts, and may even give you a chance to try something new and fun in a different place! A quick reference list will come in handy when plans change and you still want to go for a run in 30 degree weather.
4. Look for free events.
The holidays are a time to connect with your family, your friends, and your community! Cities throughout the United States now encourage people to get out and exercise. A cursory Google search will link you to 5k runs in major cities. The best way to check out free events is by following your favorite gyms and studios on social media, like Facebook or Instagram. Small businesses will often host free or charity events around the holidays. A few local businesses got together one year and created my favorite holiday event. Three fitness studios near each other created a 'Try-athalon,' each hosted a mini session that participants would run to as though they were stations at a boot-camp. It all ended at a Lululemon store stocked with food, drinks, and of course, clothes! In short, there are TONS of free events out there, you just have to take the time to find them.
5. Don't be afraid to indulge a little!
It is certainly best for your health and happiness to stay in control of your eating and drinking throughout the holiday season. But being overzealous about staying fit and counting calories might just leave you out alone in the cold! It's okay to take a few days off, to drink the eggnog, have an extra piece of Christmas ham or pecan pie. The key is to stay mindful about what you are doing. Take the time to enjoy your surroundings and be grateful for the abundance around you. You can encourage a healthy environment without making yourself the odd man out. 
Please reload